Connecting Video Game Consoles (Issue 1602)
Summary
If you have an internet-ready video game console it is possible to run it on our high-speed services. The images below will give you a good idea on how to connect your console by standard Ethernet or WiFi (depending on the specifications of your console manufacturer.)
Body
The diagram below gives a basic flow of how to hook up your gaming system to Mercury Network's High-Speed Wireless Internet.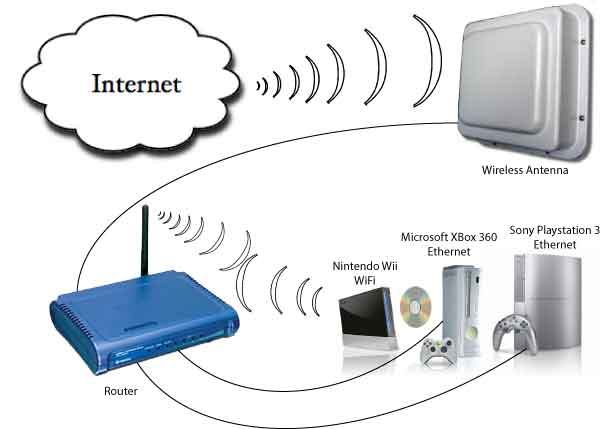 Image shows current generation of gaming consoles.
Provided is a list of Gaming consoles and how they can connect:

Company
Console
Connection
Type
Option/
Standard
Sega
Dreamcast
Ethernet
Option
Sony
PlayStation 2
Ethernet
Standard
Microsoft
Xbox
Ethernet
Standard
Microsoft
Xbox
Wi-Fi
Option
Nintendo
GameCube
Ethernet
Option
Microsoft
Xbox360
Ethernet
Standard
Microsoft
Xbox360
WiFi
Option
Nintendo
Wii
WiFi
Standard
Nintendo
Wii
Ethernet
Option
Nintendo
DS/Lite
WiFi
Standard


(Needs OperaDS)

Sony
PSP
WiFi
Standard
Listing is from oldest to newest.
Keywords
gaming
Consoles
Wii
Xbox
360
DS
DS Lite
GameCube
Playstation
Sega
Deamcast
Nintendo
Microsoft
Sony
PSP
Playstation Portable
1602