Reconfigure a connection (Issue 1003)
Summary
This article explains how to check/modify a dial-up connection in Windows XP.
Body
Next to Maximum speed (bps), make sure one of the following is selected:


56k modems: 115200
33.6k modems: 57600
28.8k modems: 38400
14.4k modems: 19200
Under Hardware features, all three options should be check-marked. A check mark next to Enable modem speaker will allow you to hear your modem dialing. If you don't want to hear it dial, take that check-mark out
Click OK after all necessary changes have been made.
You should be back under the General tab in the Mercury Network Properties window. Click the Options tab at the top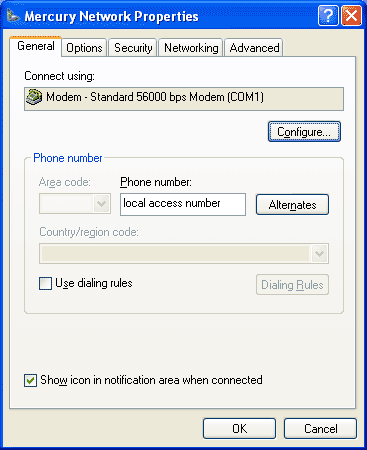 The following three items should be check-marked:

Display progress while connecting
Prompt for name and password, certificate, etc.
Prompt for phone number
Click on the X.25 button in the lower-left corner of the window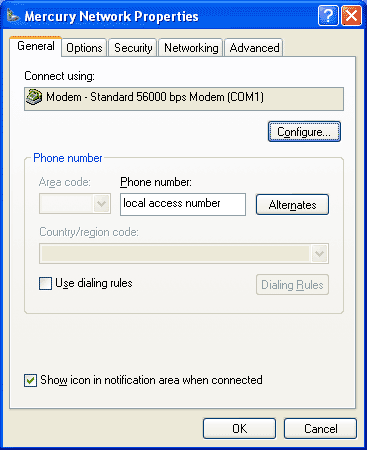 Under Network, (none) should be selected. Click Ok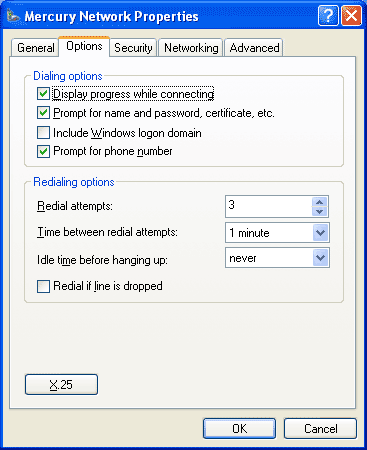 You should be back under the Options tab in the Mercury Network Properties window. Click the Security tab at the top. Scroll down for a link to continue checking your connection settings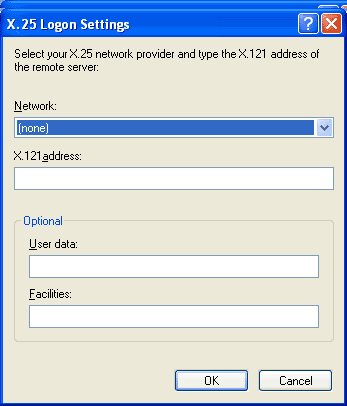 A dot should be next to Typical (recommended settings). Click the Networking tab at the top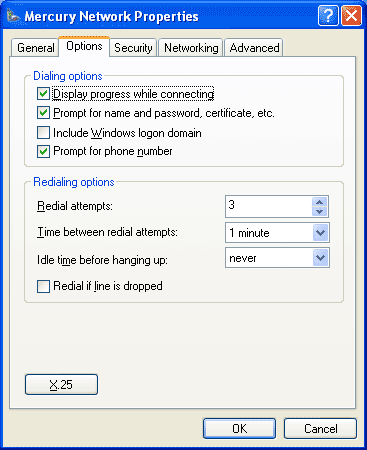 PPP: Windows 95/98/NT4/2000, Internet should be selected under Type of dial-up server I am calling. You should also have a check-mark next to Internet Protocol (TCP/IP) in the box under This connection uses the following items. Click the Settings button under Type of dial-up server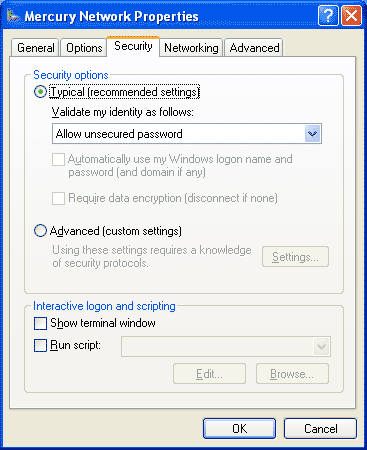 The top two options should be check-marked. Click Ok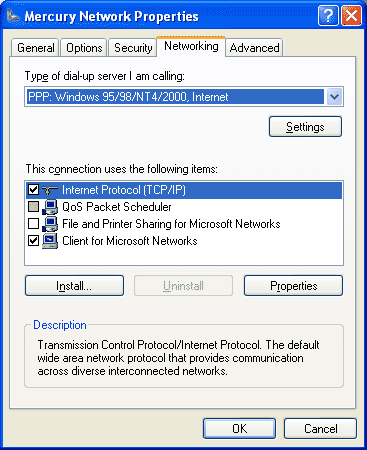 That should take you back to the Mercury Network Properties window under the Networking tab. Under This connection uses..., click once on Internet Protocol (TCP/IP). Then click on the Properties button on the right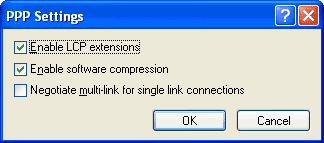 Two options should have a dot next to them: Obtain an IP address automatically and Obtain DNS server address automatically. Click the Advanced button in the lower-right part of the window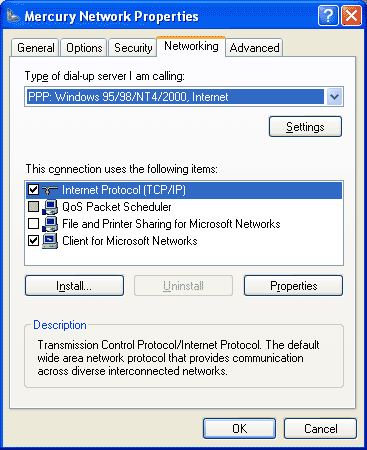 You should be under the General tab in the Advanced TCP/IP Settings window. Both options in this window should be checked. Click the DNS tab at the top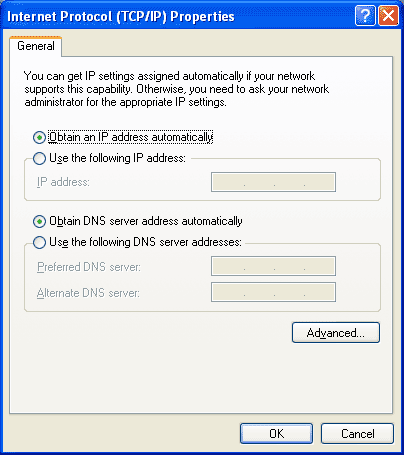 The space under DNS server addresses... should be blank. If any addresses exist (ex. 64.7.161.12), click once on them to highlight them and then click the Remove button. Append primary and connection specific DNS suffixes and Append parent suffixes of the primary DNS suffix should be selected and nothing else. Click the WINS tab at the top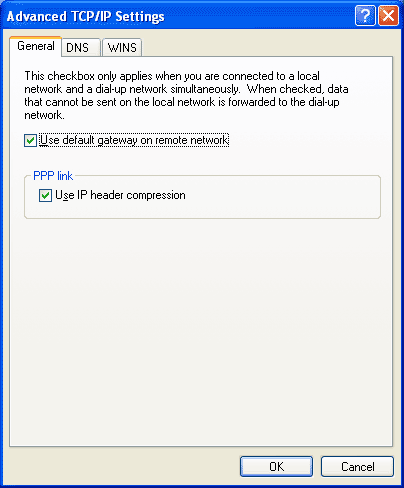 The space under WINS addressess... should be blank. If any exist, click once on it to highlight it, then click the Remove button. Click the OK button at the bottom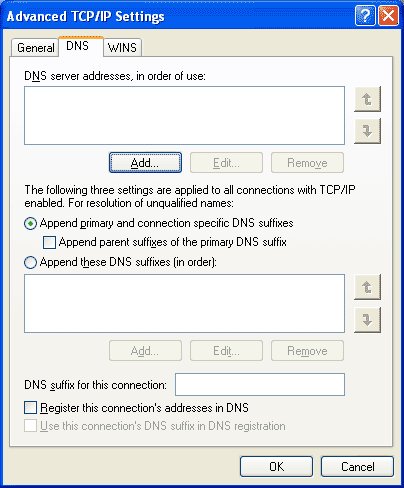 Click OK in the Internet Protocol (TCP/IP) Properties window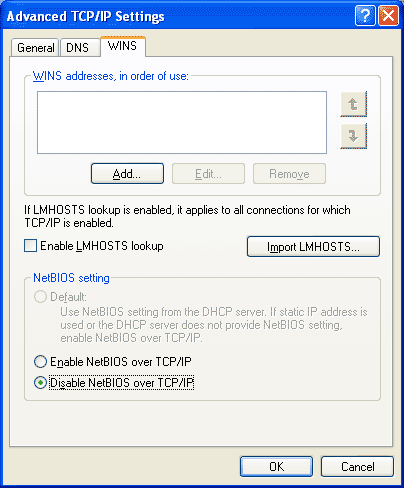 You should be back in the Mercury Network Properties window under the Networking tab at the top. Click the Advanced tab at the top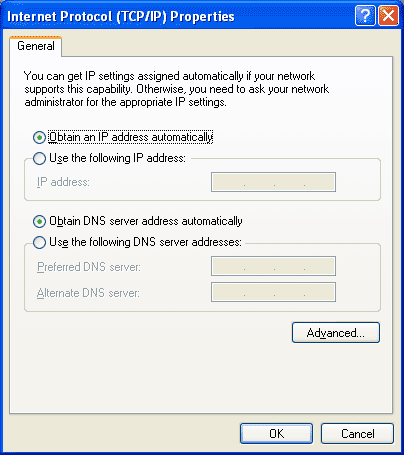 Nothing should be selected in the top two options. Click OK at the bottom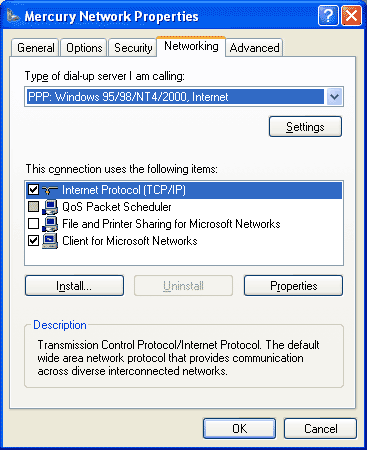 Keywords
1003
Windows XP
Reconfigure
connection